As many of our patients likely know, at the beginning of the year, Pain Specialists opened a new office location in beautiful Beaufort, SC. As our practice as well as the needs of the community have grown, we continuously work to anticipate and accommodate the needs of all of our patients. The Beaufort branch is our practice's way of renewing our commitment to accessible, high-quality care in the lowcountry.
With that being said, as our practice expands over time so does our need for top of the line physicians to continue to provide a personalized healthcare experience. During the process of recruiting a physician, we interview LOTS of candidates and could not have made a better decision than Dr. Matthew Drakeley as the newest addition to Pain Specialists team!
Originally from Pittsburgh, Pennsylvania, Dr. Drakeley received his medical degree from The Lewis Katz School of Medicine at Temple University in Philadelphia. He subsequently completed a Physical Medicine and Rehabilitation (PM&R) residency at the University of Pittsburgh and was named Administrative Chief Resident for 2017-2018. Dr. Drakeley continued on to complete a one-year fellowship in Pain Management at the University of Pittsburgh.
While Dr. Drakeley misses cheering on the Pittsburgh Steelers and Penguins as a local, he enjoys taking advantage of all of the natural beauty (and golf courses) that South Carolina has to offer. We are so excited to continue to grow our practice with the help of such wonderful physicians such as Dr. Drakeley!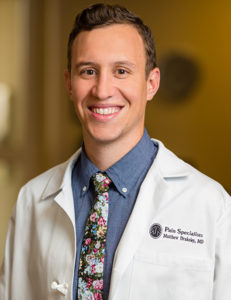 Dr. Drakeley sees patients at our Charleston, Columbia and Beaufort locations. To learn more about Dr. Drakeley, his background and treatment methods check out our Youtube channel!